THIS VERSION OF THE FILM HAS INDONESIAN SUBTITLES
Disutradarai oleh "Mr Pink, "Yutaka Ikejima, dan dibintangi oleh bom erotis, Reiko Yamaguchi, yang The Japanese Wife Next Door adalah komedi erotis lucu dan jahat! Film ini memiliki perusahaan utama Amerika Utara pada Film Festival 2009 bergengsi New York.
Kehidupan pengusaha hampir lengkap, semua yang ia butuhkan ada kecuali seorang istri. Ia bertemu dua wanita calon … Tapi akhirnya menikahi orang yang adalah nympho rahasia! Tidak dapat memuaskannafsu dirinya, istri baru menggoda seluruh keluarganya – termasuk adik pengusaha dan kakek!
THIS VERSION OF THE FILM HAS INDONESIAN SUBTITLES
Japan's sexiest adult star Reiko Yamaguchi is The Japanese Wife Next Door!
Synopsis:
A businessman's life is almost complete; all he needs is a wife. He meets two prospective women… But ends up marrying the one who's a secret nympho! Unable to satisfy her lust, the new wife seduces the rest of his family — including the businessman's sister and grandpa!
Directed by "Mr. Pink," Yutaka Ikejima, and starring the erotic bombshell, Reiko Yamaguchi, the JAPANESE WIFE NEXT DOOR is a hilarious and nasty erotic comedy! The film had its North American premier at the prestigious 2009 New York Asian Film Festival.
Director: Yutaka Ikejima
Starring: Reiko Yamaguchi, Kaoru Akitsu, Akane Yazaki, Kikujiro Honda
Production Company: Pink Eiga, Inc.
Running time: 60 minutes
Country: Japan
Language: Japanese
Subtitles: English
Release Year: 2004
Film Festivals
New York Asian Film Festival 2009
Boobs and Blood Film Festival 2010 (Los Angeles, CA)
Pop Porn Film Festival 2013 (Sao Paulo, Brazil)
Awards
2010 TLA Cult Movie Awards Best DVD Nominee
Links
DVD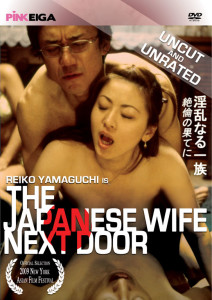 BUY THE DVD FOR $8.75
COLLECTORS ITEM!
Very rare SIGNED COPY for $24.95